As originally published on the Fort Madison Daily Democrat website July 23, 2018.  Youngsters Test Drive Toys Saturday – Mississippi Valley Publishing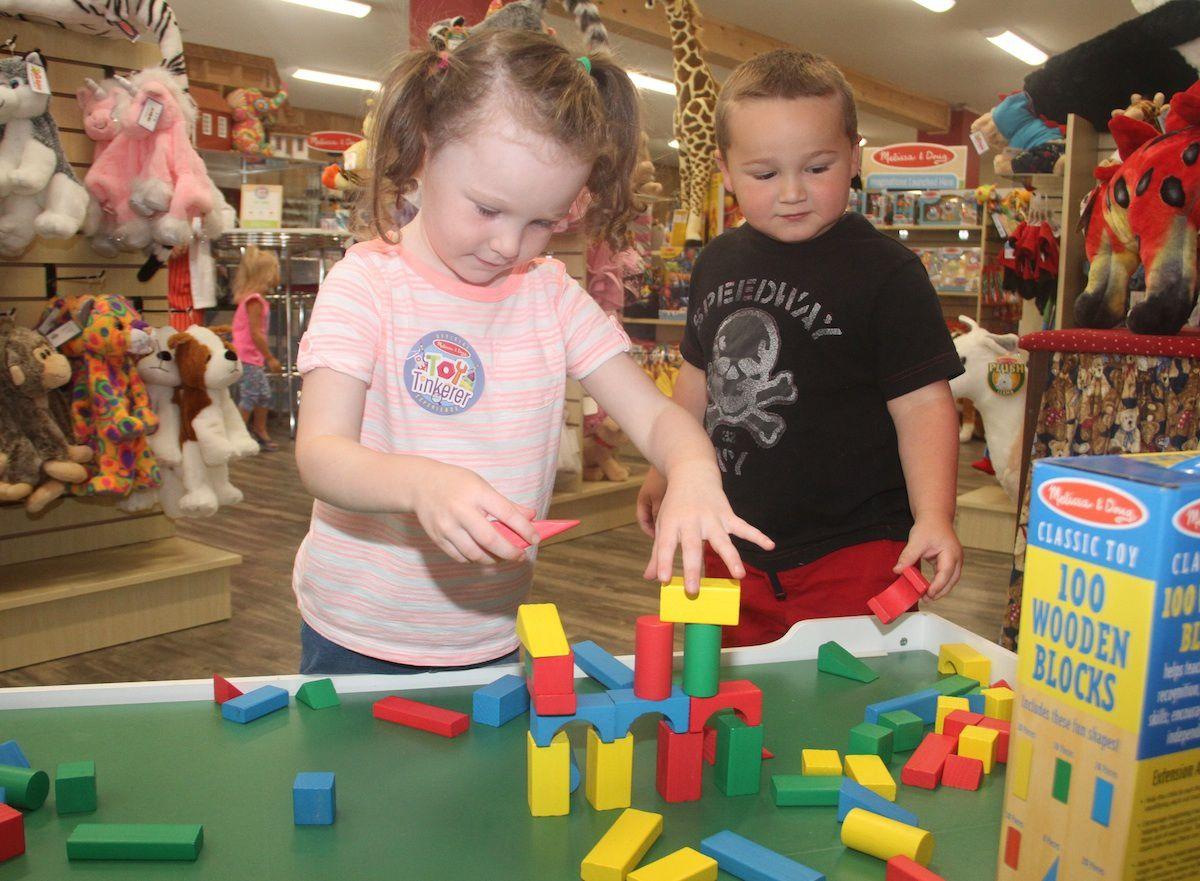 If you can test drive a car before you decide to buy it, shouldn't a child be able to "test drive" a toy?
At Dollhouse Dreams downtown Saturday, youngsters were able to do just that as part of the Melissa & Doug's Toy Tinkerers event that representative dealers put on.
Emily Enger of Fort Madison brought her 3-year-old daughter Lydia to the event.
"She has a birthday coming up," Enger said. "She's trying out the toys to see which ones she likes to play with best."
Enger said Lydia likes kitchen sets where you can make food.
"It's always a good response," said Dollhouse Dreams owner Brenda Derr, and 35 children test drove a variety of toys, including a salad maker.
Vivian Coppes, 4, and her sister Audrey, 2, of Burlington put together the "ingredients" for the salad.
The girls were getting into the activity, but when Audrey was asked her favorite toy, she said, "I like my dollies."
Derr said the event "gives kids a chance to use their imagination."
The Melissa & Doug company provided a worksheet of questions for the youngsters, such as, "Can you build a bridge with this product," Derr said, or build a road or make a salad.
Derr said the parents get a booklet with ways they can interact with their children.
Questions included: "What kind of play do you think is most valuable for kids?" – with the choice of screen-based play, organized sports/activicites and child-led play as answer choices; "How would you best describe your approach to screen time for your child?" – not so strict, somewhat strict, very strict were the choices.
"There's a reusable sticker book with school activities on it," she said.
Karissa Brooks brought her son, Atticus Carter, to try out the toys.
"He loves to shop," Brooks said.
Carter said he likes fire trucks and "a lot of racing cars."
New store
Derr has opened up a new store in Burlington that will carry just educational toys.
"Shug's Tiny Town" is named after the nickname Derr's late father, Leroy Seager, gave her when was little – short for Sugar.
"This is in memory of him," Derr said. "I think he'd be very proud."
The store, at 3200 Agency St., Suite 120, is off of Roosevelt Ave. between Joann's Fabrice and PetCo.
"We'll have a Pay and Play," said Derr of a group of playhouses such as a fire station, a boutique and a diner.